.
JamesBondWatches.com is pleased to announce that the upcoming
"Bond Watches, James Bond Watches" display
will include a
Rolex
6538 Submariner throughout the run of this exhibit, June 18, 2010, through April 30, 2011, at the National Watch & Clock Museum in Columbia, Pennsylvania.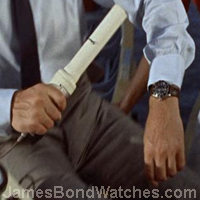 As part of our commitment to provide the most detailed and accurate information on
James Bond watches
, I personally approached the world renowned Rolex trader and author Franca E. Guido Mondani for a definitive identification. Most recently, Guido Mondani is known as editor on the limited edition book, Rolex Submariner Story, a must-have for any James Bond watch collector (an invaluable part of my own library, but of course).
Based on his own, independent review of
Dr. No
film footage (as well as some further impressive resources we're not at liberty to disclose), he's gone on record with us in calling this one a 6538 reference.
With that, we went on to approach
Bob Ridley of Watchmakers International, who is also working with the National Watch & Clock Museum and me as an invalable partner on the Bond Watches exhibit.
Watchmakers International has hand's-on experience in taking a Rolex 6538 Submariner from present-day condition to something as close as practical to the way it would have looked when
Sean Connery
wore it as James Bond in 1962....
Read more on
"Rolex 6538 Submariner to be shown at National Watch & Clock Museum 'Bond Watches, James Bond Watches' exhibit, June 18, 2010 - April 30, 2011."
James Bond Watches welcomes media inquiries for further information, background, and resources; images; and interviews.
[link]
.